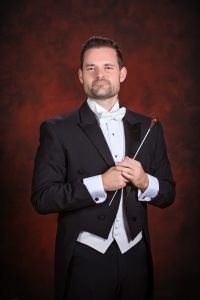 Mr. Adam Morrell – Director of Bands
Adam Morrell is the Director of Bands at Union High School in Vancouver, WA and is passionate about creating meaningful, musical experiences with students. He taught in Tacoma Public Schools for 11 years at both Stewart Middle School and Stadium High School.
In 2018, He joined the faculty at Union, where he conducts the Wind Ensemble, Symphonic Band, Concert Band, Percussion Ensemble, Jazz Ensemble 1, and Athletic Bands. Mr. Morrell's ensembles consistently received Superior Ratings, place at State Solo and Ensemble Contest, have performed at the Music for All National Concert Band Festival on the Featured Stage in 2016, and at the Washington Music Education Conference in 2017.
Adam graduated from Central Washington University with a Bachelor of Music Education in 2007 and the summer Masters of Music program in 2015. He is an avid trumpet player, performing with the Seattle Wind Symphony and most recently with the Southwest Washington Wind Symphony.
Sheli, his wife, is the music teacher at York Elementary. Their daughter, Faye, is a joy!
Teaching Experience
Union High School (Camas, WA)
Director of Bands
Stadium High School (Tacoma, WA)
Director of Bands
Stewart Middle School (Tacoma, WA)
Director of Bands
Adam Morrell
Director of Bands
360-604-6250
adam.morrell@evergreenps.org


Mr. Timothy Siess – Assistant Director of Bands, Director of Orchestras
Mr. Siess joined the faculty at Union in the fall of 2011 where he directs the Symphonic Band, Concert and Chamber String Orchestras, Pit Orchestras, Parade Band, and Jazz Ensemble 2.
In his 28 years of teaching, he has been Director of Bands at South Salem HS, Beaverton HS, Mountain View HS, and Cascade Middle School. He bands won numerous contests and festivals, including two Oregon State Band Contests. The "Blue Thunder" Marching Band at Mountain View appeared in the Fiesta Bowl and Pasadena Tournament of Roses parades. The String Orchestra at Union recently performed at the 2012 Washington Music Educators State Conference.

During his tenure in Salem, OR, Mr. Siess conducted the Salem Concert Band; in 2012, he and Professor Lewis Norfleet co-conducted the Southwest Washington Wind Symphony. Mr. Siess holds degrees from Linfield College and the Eastman School of Music.
Teaching Experience
Union High School (Camas, WA)
Assistant Director of Bands, Director of Orchestras
Cascade Middle School (Vancouver, WA)
Director of Bands
Mountain View High School (Vancouver, WA)
Director of Bands
Beaverton High School (Beaverton, OR)
Director of Bands
South Salem High School (Salem, OR)
Director of Bands
Mr. Siess
Assistant Director of Bands
Director of Orchestras
360-604-6250
tim.siess@evergreenps.org
Specialists and Private Teachers
Charlie Violett, low brass lessons