Click to Log in to Charms (for help with anything related to Charms, contact uhsbandtreasurer@gmail.com )
HOW TO ACCESS PARENT/STUDENT INFORMATION IN CHARMS
PUBLIC AREA:
Go to www.charmsoffice.com, and click "LOGIN" in the upper right corner.
Select the "Parents/Students/Members" tab.
Enter the School Code: unionband and select "Enter Parent Area".
This will bring you to the main "Public" page. From here you can access the Calendar, Sign Up to Volunteer, go to our UnionBand.org website and email directors or booster officers.
Public Calendar:
Select the "CALENDAR" tab or click on the "Public Calendar" icon to view calendar.
Signing up to Volunteer:
Select "CALENDAR" the click on the hand icon
under any event to Sign Up to Volunteer.
Enter your Name, Cell Phone, E-mail and click "Sign Up".
**Your cell and email are hidden from the Public Calendar**
STUDENT AREA:
Entering your password under "Student Area Password" and click Enter. If you need to reset your password, see RESETTING YOUR PASSWORD below.
This will bring you to the student's page where you can view additional items including Finances, Uniforms, and Update Information.
STUDENT AREA: (continued)
Update Information:
Click the "Update Info" icon to view the student's and parent's information.
Select "Update" to save changes to the student's information.
Click "Patent's Information" at the bottom of the page to view the patent's information.
Select "Update" to save changes to the parent's information.
Finances:
Click the Finances icon. This will show the student's current balances including any amounts due.
For Fixed Payments, select the item and click "AffiniPay", then "Pay Fixed Payments".
You will be prompted to enter your debit or credit card information. Fixed Payments can ONLY be made for the full amount. If you have a Fundraising or Miscellaneous Balance Credit or to make a partial payment, select "Make Miscellaneous Payment".
You may also pay by check to Union Band Booster Association and dropping the check off in the Band Booster box in the band room.
RESETTING YOUR PASSWORD
**Note: You and your student will share the same password to log into the student portal**
If you don't know your password, click "Enter" to go to the password reset page.
Enter the student's name and email address.
Email address should be entered as STUDENTID@student.evergreenps.org.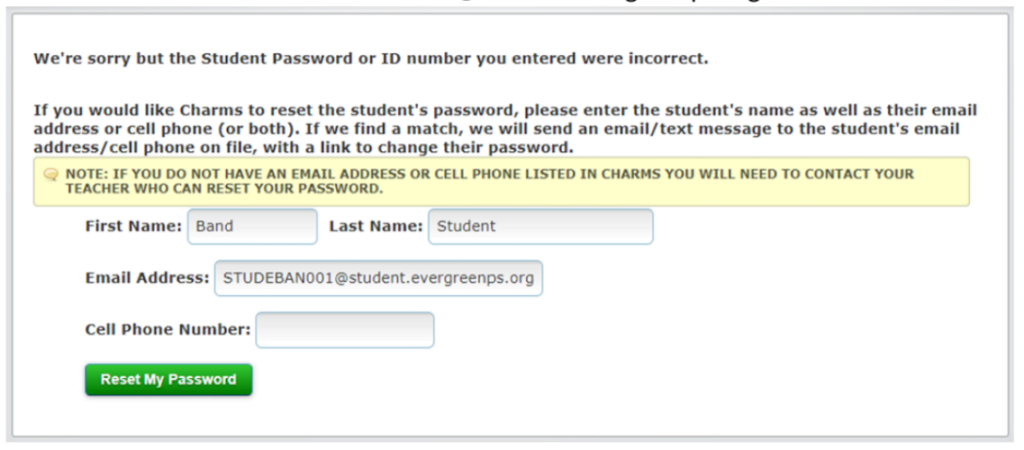 If Charms finds a match, an email will be sent to the student's and parent's email addresses with a link to reset the password. Reset password link is valid for 24 hours.
If Charms does not find a match, you will receive the following message.
Please contact the Union Band Booster Association Treasurer at uhsbandtreasurer@gmail.com for assistance with resetting your password.